From the beginning, "Steps" is a breath of fresh air. Dancing had come as a refreshing theme and was without a doubt fun to watch, especially with the talented dancer Bernice

Liu

as the lead. Unlike other series, it had started with a fast pace which made it interest you right from the first episode. Since a majority of the cast were dancers, or had a dancing background, they handled dancing Latin well, instead of just posing and shaking their hips.

The cast was made up of veteran actors, newbies, as well as actor/actresses that have recently improved. I had many opinions of the cast members, and with each cast member came a different opinion.

Bernice

Liu

as Lee Sum

Ying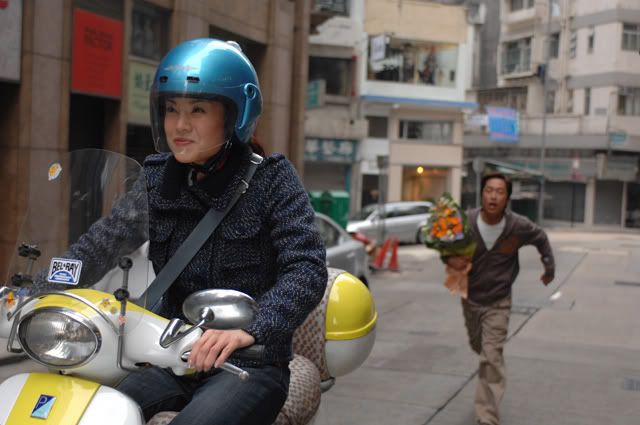 Although

she has been criticized early in her career with lack of fluency in Cantonese and bad acting, she has improved heaps since she first entered the industry in 2001. Her character is perfect for her, a girl who's positive, nice, and loves to dance. Dancing is definitely one of her best talents which she was able to show off in "Steps." Her performance may not be award winning or a big breakthrough, but it was sweet, likable, and real. Overall, her performance gets a two thumbs up from me.
Steven Ma as

Ching

Ka

Tsun
His character is likable, and his performance shined compared to his newbie co-stars Matthew

Ko

, Stephen

Huynh

, and Stephen Wong. However, it falls slightly short of long-time veteran Wayne

Lai

. His acting is solid though and was hilarious at times. The downside? His hairstyle in this particular series is rather unusual.

Wayne

Lai

as Lee

Lik
Keung


As he does in every series he's in, he stands out. His character is most amusing to watch. Although he's not young or handsome, he can out perform a whole cast of a series, whether he's playing a lead or supporting role. He delivers the best performance in the whole series, and was the most hilarious.

Claire

Yiu

as

Yau

Lam Lam

Besides for Bernice, Claire is the only other female lead I liked. Her character was refreshing to watch, because how often do you see a

TVB

artiste turned into a geeky girl wearing glasses onscreen? The performance was cute and lovable, and I enjoyed watching her so much. While her 'love' for the bonehead muscleman Bob in the earlier episodes were very annoying and irritating, the sweet relationship between her and Wayne made up for it. Unfortunately, her screen time is cut after she and Wayne get married.
Kate

Tsui

as

Yeung

Sze

Man
Really, I fail to see any improvements from Kate in this series. If anything, improvements didn't come until 2009. She still talks with her 'baby voice' in this series, and it makes her sound irritating instead of cute. Some people say that Kate

out shined

Bernice, and I highly disagree with that. However, her relationship with Stephen was very sweet and they have good chemistry. I liked how this particular character proved how a woman could run a company, even better than her father too. Unfortunately, Kate was miscast as a businesswoman. I understand them casting Kate since she is a very good dancer, but Kate ended up not having many dancing scenes.

Matthew's performance was wooden and not full of emotion whatsoever. However, I'll cut him some slack because this was one of his first series. Plus, he was given a very unlikable character. To this day though, I still wonder if Matthew has what it takes to be an actor because he's still remained wooden. I don't mind him in small roles like in Forensic Heroes II though. On a random note I wish Stephen Wong was on the poster instead of Matthew, considering his character is more important and he has more screen time. I understand what

TVB

was doing with the dancing partners though.
Compared to all the other male newcomers in this series, Stephen was one of the better. His acting still needs work, but for the most part he's passed the 'wooden and stiff' stage. His emotional scenes were rather uncomfortable to watch though. Still, he is more likable than the other male supporting actors from "Mr.

Hong

Kong" and his character was sweet.
The character Karmen goes down as 2007's Most Poorly Written Character. At first, she is a bad, mean, and rude girl but after the accident with Lam Lam, she suddenly turn
s all nice and good. After she turns "good," she is literally pushed off the screen. Her absence from the screen lasts at least 5 episodes, with the other few she appeared in with a screen time of about 5 minutes each. Then towards the end, she turned bad, mean and rude once again. I will say this again,

TVB

did a terrible job of writing this character. However,

Fala

did a solid job with what she had to work with. Although her character is not likable, her acting is likable, and she's improving. Still, I do not think she

should've

won "2007 Best Supporting Actress" especially

because

her character was not even that important, or had much screen time.

The Chemistry Factor
"Steps" had great chemistry among it's cast, and not just in love relationships, but brother/sister and best friend relationships too...
Bernice and Steven
What kept "Steps" going was the dancing scenes and chemistry between Bernice and Steven. These two had so much chemistry onscreen, and were so entertaining to watch, from their romantic scenes to their comedic scenes, to their fighting scenes. I loved when they called each other Auntie and Uncle. Their relationship was another one of

TVB's

"Hate to Love" relationships where Bernice and Steven at first disliked each other, then became friends, then became a couple. I hope these two will have more opportunities to collaborate with each other again, now that their chemistry has improved more than ever.

Bernice and Wayne

These two played brother and sister in the series, and it was quite enjoyable to watch. They had the right chemistry and atmosphere that could make them pass as actual siblings. It is amusing how Bernice, although the younger sibling, took care of Wayne. From helping him eat healthy, to playing peacemaker when Wayne and Steven were fighting, to Bernice even setting up a blind date for him, these two were just awesome.
Talk about hilarious! Steven and Wayne were very comedic to watch onscreen as friends whether they were having fun together, fighting, or just being silly with one another. It's great that these two veterans had the opportunity to work together, because they are both great actors with lovable characters. Together, they produce great comedy duo that contributed to keeping the series alive.
Despite the age difference, they are surprisingly a refreshing and adorable couple. The

initial

crush Wayne had on Claire was sweet (and at times creepy). It was hilarious when Steven and Wayne followed Claire's boyfriend Bob and

referred

to him as 'Chicken Breast.' I couldn't help but smile widely when Wayne proposed to Claire. Their interactions were so sweet and I really wish we

could've

seen more of them.
The Letdown
For a series that started off so strong, "Steps" lost a good amount of steam after 12-15 episodes. You'll most likely keep watching, because it's still pretty great. Unfortunately, the storyline starts to drag, and the script becomes sloppy. Bernice, Steven, Wayne, and Claire if she was ever on screen, kept it alive. I will not blame these four talents, because it's definitely not their fault. I don't know about all of them, but here are a few factors that I think are the main reasons for "Steps" later disappointment in the second half of the series:
Fala's

character "Karmen's" transfer from bad to good.
Too much focus on the

Hei

Yeung

Yeung

business

Kate had too much screen time, she is the supporting actress, not the lead!

Claire had barely any screen time :(

The pathetic love triangle between Kate, Matthew, and Tracey. Heck, it's a love triangle by

TVB

, of course it'll be bad!
Dancing is no longer the focus or theme of the series.

Overall, "Steps" is one of the best series of 2007, and the most refreshing series of 2007. However, it does not stay strong for the whole series, but is still a must watch. I definitely recommend it for it's freshness, but the supporting cast (except for Wayne and Claire) does drag it down a lot. Lastly, I absolutely love the theme song by Bernice Liu and the English subtheme by Noella Choi.

RATING: 3 3/4 stars
Entertaining dancing, great performances by the veteran cast, but poor casting on the supporting newbie cast and poor script in the last few episodes. Poor script in the later part of the series and poor acting by the newcomers is the only thing that kept me from giving it 4 stars.